Restoring creation for ecology and justice
The Lord put Adam in the Garden of Eden to cultivate it and take care of it. Genesis 2:15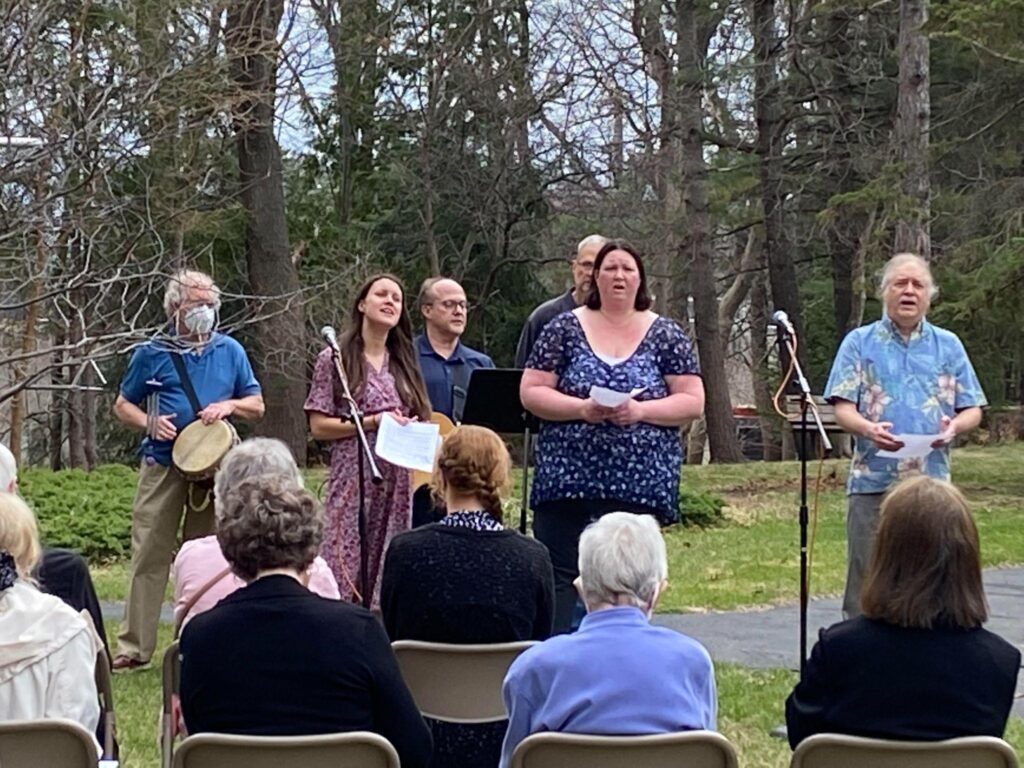 Earth Day worship services, 2022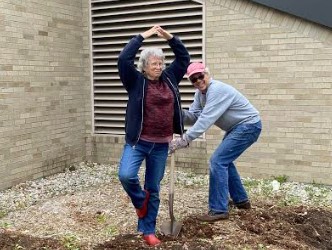 Spotting a new tree in the Native Plant Garden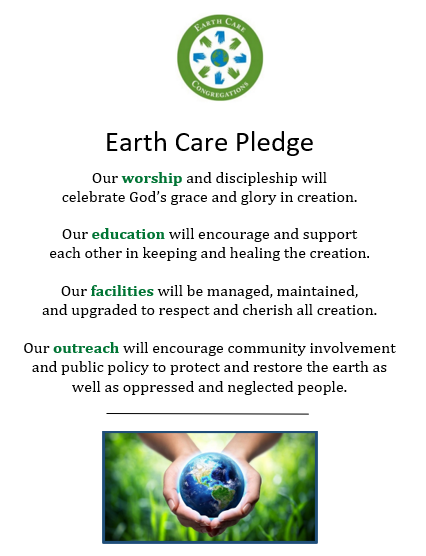 In 2020, our church joined others in PC USA in becoming a Certified Earth Care Congregation. We committed to the Earth Care Pledge and launched a Creation Care Team.
Creation Care Team Purpose
To support our church's commitment to stewardship of God's amazing creation, to lovingly care for the world with which we have been entrusted–to restore the damage we have done, to prevent future damage, and to work toward environmental justice for all.
Explore our church's goals and how you can get involved….
Let's Make July Plastic Free
This summer,
faith communities around the world
, as well as other organizations concerned about our environment, are coming together to promote, work in concert, and live a Plastic Free July. The focus is on reducing and/or eliminating single use plastics for the month of July. It's going to be fun, it's going to be challenging, and we will learn a lot that can help us advocate for better alternatives for our world. To learn more, see 
Plastic Free July.
Together we can make a difference!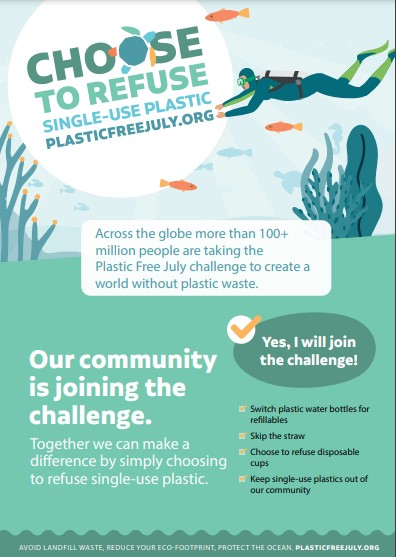 Next meeting  of the Creation Care Team
TBA. All are welcome.  If you'd like more information, contact Linda Racine or Kris Wendland
Hazardous Waste Dates
Grand Traverse County will be collecting hazardous waste material on these dates in 2023:
Thursday, August 10th
Saturday, September 1
Click here more information about this and other great recycling resources!
Other Resources
Book List
Click here! For a list of all the Creation Care Titles in our PCTC Library.
Theme for 2023: Reduce our Carbon Footprint!
Last summer our denomination's  225th General Assembly approved
6 items
related to Creation Care and made some bold statements about the need for action:
At this point in history,
we face the existential threat
of climate change destroying God's Creation and the future of humanity and living creatures on this planet.
Already more vulnerable communities of color and the poor are experiencing profound effects
…
Now is the time to act with concrete and measurable actions as a  church and as disciples.
The General Assembly encourages us all to:
Reduce our carbon imprint by 25 percent in the next four years
Become carbon neutral, net-zero, or even climate positive by 2030
Note: If you missed the discussion at the October 5 Wednesday Night Connection, you can see the slide deck here: 
Overture Discussion on Issues Related to Creation Care.
Our church is taking these recommendations to heart.  We assessed our current carbon footprint using
Interfaith Power & Light's Carbon Calculator.
  (Thank you to all who helped by completing the Transportation Survey!)
Building and Grounds is analyzing the report, then we will be gathering a church to review where we are now and set specific goals for next year–stay tuned!
In the meantime, committees have already set some goals for the year…
Our Church's Goals for 2023
Following are changes we can make in our homes and lifestyles that will reduce the amount of fossil fuels we personally contribute each day.
Climate Action

What's been accomplished, what's left to do, how you can help!
Some good things have happened in the last couple of years….
Bipartisan COVID Relief Package
Passed December, 2020
Besides COVID relief, this package had some items that are good for the environment including  clean energy reforms, R&D enhancements, efficiency incentives and extending clean energy tax credits.  It also included:
$300 million over five years to reduce the cost of grid-scale energy storage systems
Boosts to carbon capture and direct air capture technologies
A commitment to phasing out hydrofluorocarbons. This is a big deal, as HFCs are a class of potent greenhouse gasses!
Source: https://www.eenews.net/articles/year-end-deal-includes-major-energy-environment-wins/
Bipartisan Infrastructure and Jobs Act
Passed November 6. 2021
In addition to investments in roads, bridges, broadband, and water infrastructure, this Act includes some important environmental and climate investments:

The US passed the Inflation Reduction Act
Passed August 12, 2022  
The largest climate package in US history–models predict it could help us reach 40% emissions reduction by 2030
How does it accomplish these cuts?
Deploying clean energy

Methane pollution fee

Electric vehicle incentives

Building electrification and efficiency

Innovation and domestic green manufacturing

Natural climate solutions (forestry and agriculture)
Source:
https://yaleclimateconnections.org/2022/08/experts-senate-passed-bill-will-yield-myriad-climate-benefits/
You may be eligible for tax credits or upfront discounts as you make your home or business more energy efficient. 
To explore potential savings, click here: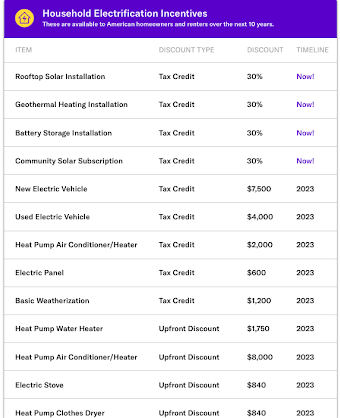 Climate Action

What's left to do ....
Our current path gets us to 40% by 2030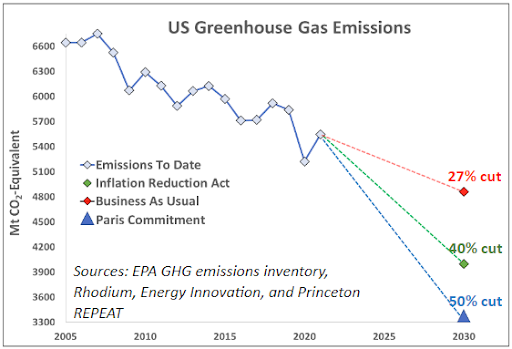 While a great first step, our current policies don't get us where we need to go–50% by 2030; net zero by 2050.  And these policies primarily affect just US emissions.  What about the rest of the world?  Climate change is a global issue.
We need to….
Close the last 10% of our 2030 Paris commitment gap, then keep working to reach net zero by 2050

Advocate for policies and practices that ensure environmental justice
Climate Action

Stay tuned ....
As the PC (USA) Office of Public Witness or other PC (USA) agencies send out calls to action we will post them here and on the Creation Care table in the hallway next to the Welcome Center.  We will also let you know about other issues that provide an opportunity for faithful action  in line with the recommendations from the 225th General Assembly.