Restoring creation for ecology and justice
The Lord put Adam in the Garden of Eden to cultivate it and take care of it. Genesis 2:15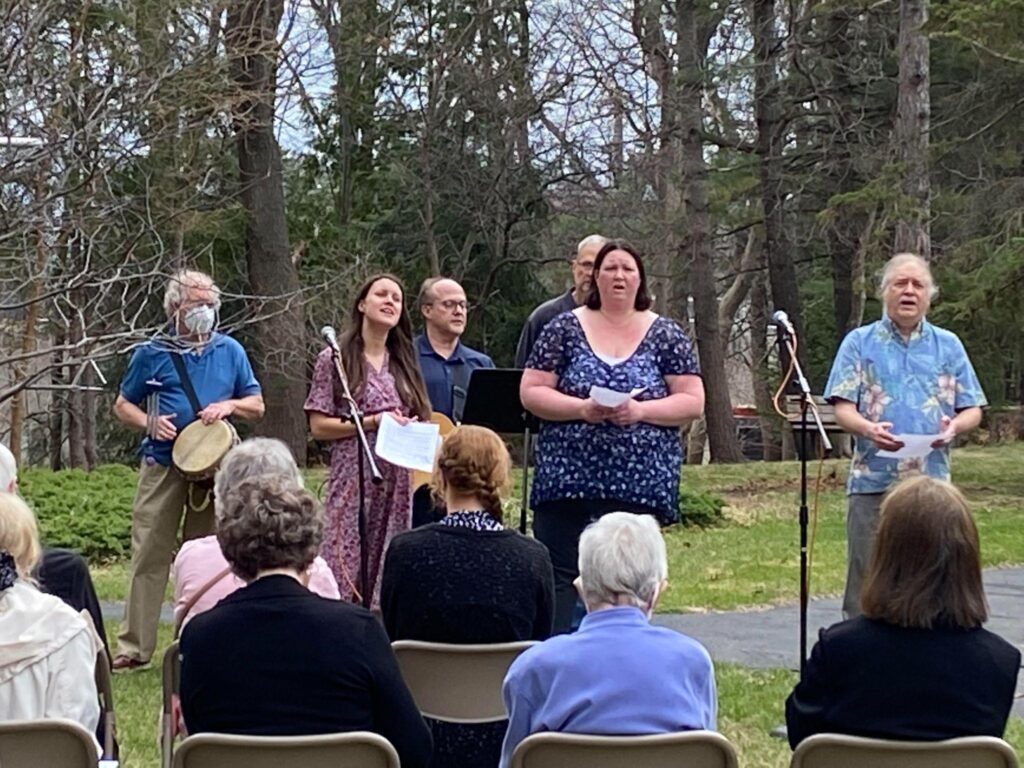 Earth Day worship services, 2022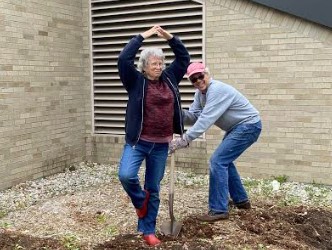 Spotting a new tree in the Native Plant Garden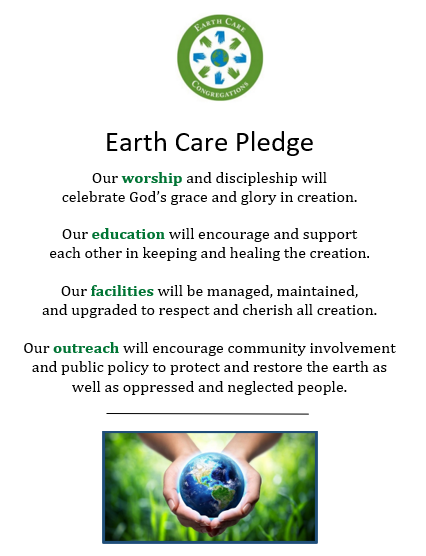 In 2020, our church joined others in PC USA in becoming a Certified Earth Care Congregation. We committed to the Earth Care Pledge and launched a Creation Care Team.
Creation Care Team Purpose
To support our church's commitment to stewardship of God's amazing creation, to lovingly care for the world with which we have been entrusted–to restore the damage we have done, to prevent future damage, and to work toward environmental justice for all.
Explore our church's goals and how you can get involved….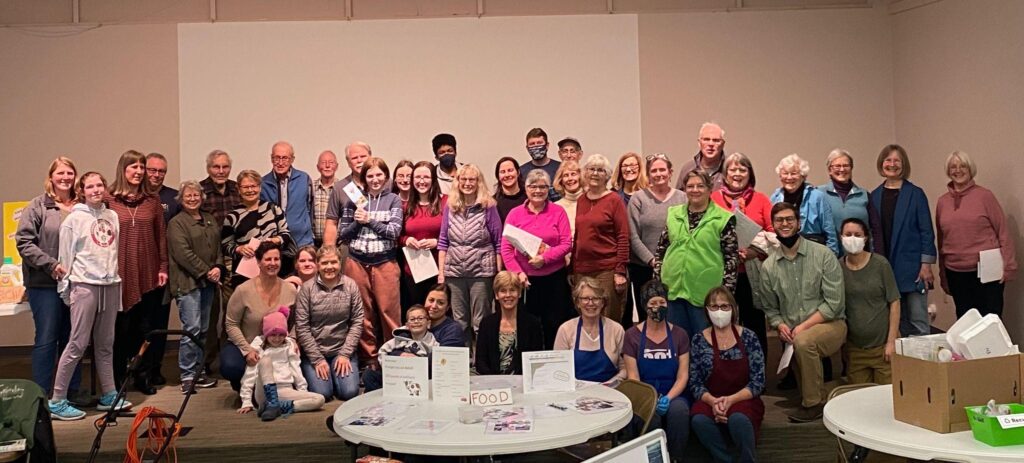 Wednesday Night Connection "Reducing our Carbon Footprint!"  April 2022
Carbon Challenge Focus of the Month
The focus for September is Single Use Plastic.   The goal for this month is to increase mindfulness of how much plastic we use, and take steps to REDUCE our usage, REUSE what we already have, and RECYCLE what we can. 
You'll find many suggestions for how to do this if you keep scrolling to the Resources section.  Be sure to check out the Creation Care display in the hallway next to the Welcome Center.
2022 Creation Care Team Meetings:  7:00 – 8:00 pm
September 26        October 24
All are welcome.  If you'd like more information, contact Linda Racine or Kris Wendland
Theme for 2022: Reduce our Carbon Footprint!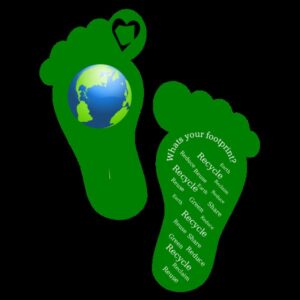 The scale of the environmental crisis can be overwhelming and make it hard for us to act. The good news is that together we CAN make a difference! Much of the devastating effects of climate change comes from the buildup of greenhouse gasses in our atmosphere mostly released when oil, coal and natural gas are burned to provide the energy which powers so much of our current way of life. The sooner we act to stop these emissions the better. 
The US has a goal to reduce emissions 50% by 2030.  See what we are doing as a church and what you can do at home…
Our Church's Goals for 2022
Other Ideas and Resources
Click on any of the images below to learn more.
Climate Action

What's been accomplished, what's left to do, how you can help!
Some good things have happened in the last couple of years….
Bipartisan COVID Relief Package
Passed December, 2020
Besides COVID relief, this package had some items that are good for the environment including  clean energy reforms, R&D enhancements, efficiency incentives and extending clean energy tax credits.  It also included:
$300 million over five years to reduce the cost of grid-scale energy storage systems
Boosts to carbon capture and direct air capture technologies
A commitment to phasing out hydrofluorocarbons. This is a big deal, as HFCs are a class of potent greenhouse gasses!
Source: https://www.eenews.net/articles/year-end-deal-includes-major-energy-environment-wins/
Bipartisan Infrastructure and Jobs Act
Passed November 6. 2021
In addition to investments in roads, bridges, broadband, and water infrastructure, this Act includes some important environmental and climate investments:

More people are becoming aware of the urgency
According to the most recent results of the Yale Program on Climate Change Communication research from Sept. 2021, there are now more Americans who are alarmed about climate change than ever before.
At 33%, this is the first time that the Alarmed group of survey takers have outnumbered the other groups…The Alarmed are "the most engaged, are very worried about global warming, and strongly support climate action."
This leads program director Anthony Leiserowitz and his team of researchers to conclude that "Americans are becoming more worried about global warming, more engaged with the issue, and more supportive of climate solutions."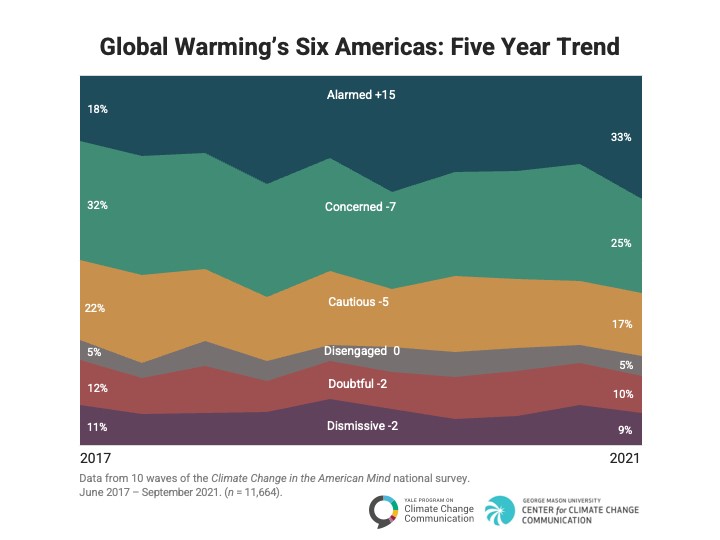 The US has rejoined the Paris Agreement and set a goal of 50% reduction in emissions by 2030
Climate Action

What's left to do ....
The Budget Reconciliation package (now stalled in the Senate) has many important provisions to help us reach our 50% by 30 goal.  Some of the items proposed:
Tax credits for renewable power, electric vehicles
Investments in U.S. manufacturing of clean energy technologies (solar panels, electric vehicle parts and other green tech)
Investments in climate-smart agriculture
Funds to target cleaning up legacy pollution and advancing environmental justice
Phasing out government subsidies for coal, oil, and gas
Provisions to reduce methane
There has also been discussion of adding a carbon fee.  Since the Clean Energy Plan was rejected by Senator Manchin, modeling suggests that while the rest of the strategies will make a huge dent in methane and carbon emissions, they don't get us to 50% by 2030.  A fee on carbon pollution could help us do that.  Learn more
Climate Action

How you can help ....
Or if you like, you can use this easy tool through Citizens' Climate Lobby, a nonpartisan, nonprofit grassroots advocacy organization that exists to create the political will for climate change.  It provides some draft language for President Biden, but you can edit it to say whatever you want.  It will also give you the option of emailing our two senators. Both Senators Stabenow and Peters have been strong advocates for climate action, and it helps them to hear this is an important issue for their constituents.


Let's raise our collective voices so that the chorus is so loud, leaders cannot ignore it!