Restoring creation for ecology and justice
The Lord put Adam in the Garden of Eden to cultivate it and take care of it. Genesis 2:15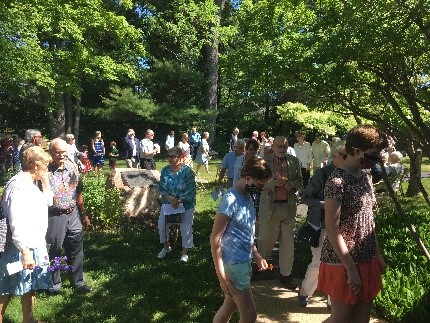 Earth Care Worship in the Prayer Garden June 13, 2021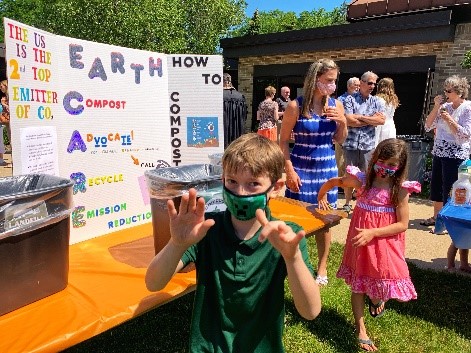 Creation Care Kick-Off Celebration
June 13, 2021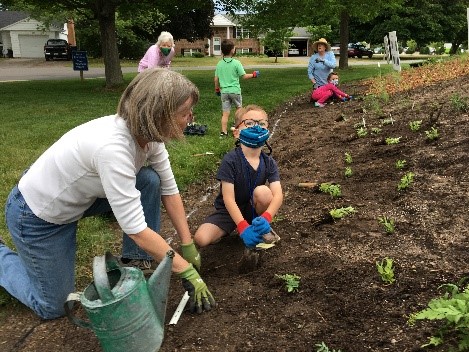 Planting the Sacred Garden during VBS
June 24, 2021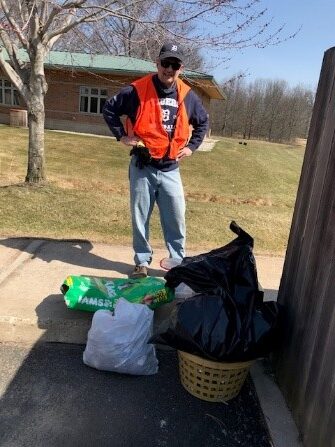 Sunday of Service Clean-up May 30, 2021
"Never doubt that a small group of thoughtful, committed citizens can change the world; indeed, it is the only thing that ever has."
-Margaret Mead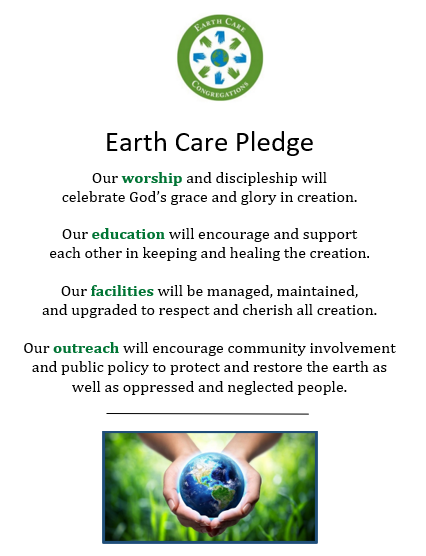 Worship
Explore great articles and podcasts about spirituality and nature here.
Education
Did you know our church is a member congregation of Interfaith Power and Light (IPL)?  Learn more about Michigan IPL here

.
Facilities:
Be on the lookout for new recycling bins around the building to encourage more effective recycling of paper, plastics and other recyclables.
Outreach
Sign the Action Alerts from PC USA's Office of Public Witness:
Upcoming Events
Creation Care Planning Meeting, Monday, January 10 at 7pm via Zoom.  All are welcome!  https://us02web.zoom.us/j/812384232 or one-tap mobile: +16468769923,,81238423225# US or Dial: +1 312 626 6799  Meeting ID: 812 3842 3225 
Questions?  Ideas?  Contact
Kris Wendland [email protected]
Linda Racine [email protected]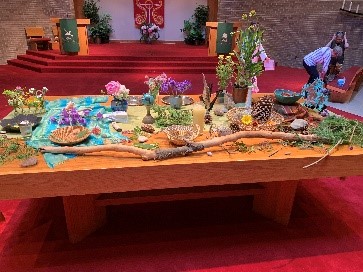 ✅ Devote 2 or more Sundays to earth care topics (including music, prayers, sermons, readings).
Perform an earth care drama in both the traditional and neXus worship service
✅ Display earth care art, including a large version of the Earth Care
Pledge

Explore ideas for an earth-care-focused Lenten discipline

Explore recyclable or reusable communion cups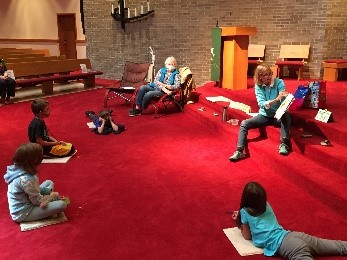 ✅ Incorporate an earth care theme into Vacation Bible School
✅ Build web pages on our church site devoted to earth care 
✅ Hold an earth care fair or educational event
Incorporate information about our church's work in earth care into our confirmation and new member classes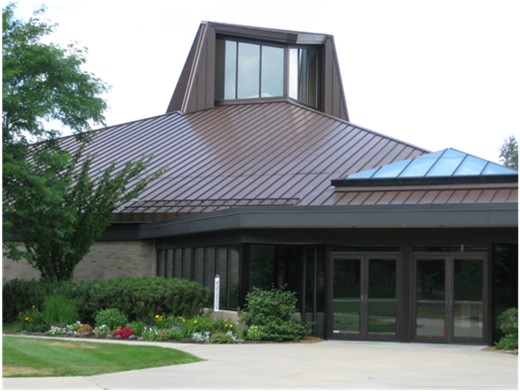 ✅ Begin replanting beds using native plants 
✅ Replace air conditioning system with high-efficiency model
✅ We are also purchasing a new efficient dishwasher!
Other ideas: Explore solar panels (grants available?) Create a compost bin at church, Promote/support alternative transportation.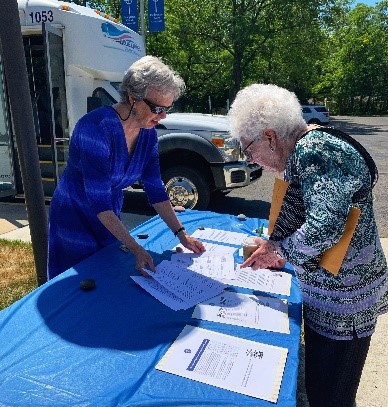 ✅ Encourage church members to call or write their members of Congress about earth care.
✅ Conduct at least one outreach project related to earth care.
Arrange for youth group to participate in a public hearing or visit with a member of Congress
✅ Use calls to action on earth care issues from the PC(USA) Office of Public Witness, Hunger Program, Environmental Ministries, Creation Justice Ministries, or Presbyterians for Earth Care in our Wednesday Night Connection activities
OUTREACH: CLIMATE ADVOCACY
A critical issue to many in our congregation is addressing climate change, the focus of the February 3, 2021 WNC.  If you missed it, you can access the slide deck here.
In 2018, our General Assembly approved two policies:
"The Earth Is the Lord's" that encourages "the whole church to raise a prophetic voice regarding the urgency of healing the climate of the earth, our home and God's gift for the future of all life, human and nonhuman."
"On Supporting Carbon Pricing" that encourages the church to "express its profound concern about the destructive effects of climate change on all God's creation, including a disproportionate impact on those living in poverty and in the least developed countries" while advocating for the creation of carbon pricing that is fair and just especially for those in vulnerable populations.
The call for action on climate has been getting stronger over the last few years.  State and local governments as well as large corporations (GM, Ford, Consumers Power) have set carbon neutral or net-zero targets.  Healthcare professionals, business groups (National Chamber of Commerce, Business Roundtable), faith communities, and a broad range of organizations and private citizens have advocated for urgent action.  Addressing the climate crisis is high on the Biden Administration priority list, and we can expect significant legislation will be introduced in the coming weeks and months.
At the February 3 WNC, we explored a variety of climate policy strategies.  Some include incentives and infrastructure investments, others look at regulations, and others take a carbon-pricing approach.  All have important roles in the solution, and all have cautions.  We explored why many, including our General Assembly, have come to believe that pricing carbon and returning the revenue to people in a monthly dividend check is a critical part of effective policy.  While it is not the ONLY thing that needs to happen, it appears to be an important first step in a comprehensive plan to hit IPCC targets.
Concerned About the Climate?
Here are a few things you
can do:
Call or write our Members of Congress! It makes a difference. Here's a tool kit, with phone numbers, email addresses, a script--everything you need!

Sign these Action Alerts from PC USA's Office of Public Witness:

This bill will help reduce America's carbon pollution to net zero by 2050. It puts a fee on carbon pollution, creating a level playing field for clean energy. The money collected from fossil fuel companies goes to Americans in the form of a monthly 'carbon cash back' payment so that everyone can afford the transition. Support the Energy Innovation & Carbon Dividend Act

This bill initiates "environmental justice requirements, advisory bodies, and programs to address the disproportionate adverse human health or environmental effects of federal laws or programs on communities of color, low-income communities, or tribal and indigenous communities." Support the Environmental Justice for All Act