SUNDAY MORNING CHILDREN'S PROGRAMS

SUNDAY SCHOOL CLASSES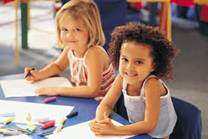 Sunday School is provided for children in preschool (4 years old) through 5th grade from 8:45 a.m. – 9:30 a.m. down in the lower level. We understand that music plays a large role in a child's faith development, that is why there is a time of singing before the children attend their class. Each Sunday School class uses the curriculum "Feasting on the Word". This curriculum follows the scripture and lessons that are read and taught in worship each Sunday. It connects worship and the faith formation of our children. Scripture is presented in an age-appropriate way and explores how God's will is expressed through the Biblical word.
THE WORSHIP CENTER

Children ages 4 – 2nd grade are invited to the Worship Center following the children's message each Sunday. The Worship Center provides a place for children to go to worship God and to hear, see and respond to the stories of God through a curriculum designed especially for them. Children can experience the love and presence of God in a unique way. In the Worship Center , they will develop an understanding of and appreciation for worship that will last them a lifetime.
NURSERIES

There are two nurseries which provide loving child care during worship by adult and youth care givers employed by the church. The nurseries are open fifteen minutes before and after each service.
THE INFANT NURSERY serves children up to 18 months of age or older, depending on their ability to walk. It is located on the main level next to the west entrance.
THE TODDLER AND 3 YEAR OLD NURSERY serves children who are 18 months of age and up to 3-1/2 years old. (See "Preschool Class" for entry guidelines for the next age level class.) The nursery is located on the main level off the narthex.
Silent pagers are signed out by all parents and must be returned to the nursery attendant before the children may leave the nurseries.
We also have a "Joyful Noise" room available off of the narthex. This room is designed for families with young children who may not be accustomed to worshipping in the sanctuary.
TEACHERS

We are blessed to have wonderful volunteers to teach Sunday School every week. Our teachers are committed to teaching once a month in their assigned classroom. If you are interested in being a Sunday School Teacher, please contact Carrie Geisert at 946-5680.
CAROL CHOIR

For young music lovers, the Carol Choir offers a beautiful way for children to worship and express their faith through song. Rehearsals for this choir are held September – May on Sunday mornings from 9:30 a.m. – 9:50 a.m. in the lower level. Carol Choir members are in grades 1st – 5th. Please contact Angela Wiliford if you have questions, mezzoazw@live.com.
---
FAMILY MINISTRIES ACTIVITIES
We are here to prove that you are never too young to make a difference! Our mission is to provide a balance of fun, fellowship and service. Meetings are held the 2nd Wednesday of the month, from 6:15pm to 8:00pm. We join CORE for dinner at 6:30 and a $3 free will donation is suggested.
FROGS ~ Fully Rely On God

Welcomes all 4th and 5th graders.
ARK ~ All Remarkable Kids
Welcomes all 1st – 3rd graders
Please bring your child to Believer's Bay at the Children's Ministries center in the lower level and sign them in. We request that parents always sign their child in and out of the program activities.
---
MOM'S MORNING OUT




Every Monday morning, mom's of children 6 weeks – Preschool age come for a time of fellowship & support. A loving childcare staff will care for your children from 9:30am – 12:30pm. Drop your child off at 9:30am in the nursery and come to the Westminster Room to connect with other moms. After a time of "Mom Fellowship", then use the rest of the time for YOU. e welcome all moms! You do not need to be a member of the church to join us for this program. We ask that you pick up your child promptly at 12:30pm. This program runs on the TCAPS calendar.
This is a wonderful way to spend your Monday mornings! Please call Carrie Geisert, Children's Ministries Director, at 946-5680 if you have any questions.
---
OTHER EVENTS & RESOURCES

SPECIAL EVENTS

Seasonal programs include a Lenten Spiritual Walk, an Advent Festival, and the Christmas Pageant. Vacation Bible School is probably the busiest week of the year as children from the church and community gather for a week of learning and playing together to learn more about God's love.
COMMUNION CLASS

All children 1st – 5th grade are invited to attend a meaningful Communion Class held on Ash Wednesday every year. Come, sit around the Communion table and hear the story of when Jesus broke bread with his disciples and what it means for us today. Stay for dinner and then join your family for Ash Wednesday service, where you will participate in Communion and receive oil and ashes. It's an evening to remember. It is the policy of this church that all baptized children of any age are invited to receive the Lord's Supper at the discretion of their parents
THE CHILDREN'S LIBRARY

(In the lower level)
The Children's Library is open Sunday mornings and anytime the church is open for families to check out videos or books to take home. We have a great selection of picture books. DVD selections include Veggie Tales, What's in the Bible and many more.
---
To find out more about Children's Ministries at the Presbyterian Church, please email Carrie Geisert at carrie@tcpresby.org, or call the church office, 231-946-5680.